POINTS OF INTEREST IN ABU DHABI
As a business & leisure destination Abu Dhabi has gradually emerged as a favourite amongst visitors. The city has also developed rapidly. Here are some ideas for an enjoyable stay.
DESTINATION & CULTURAL PARTNER
SHEIKH ZAYED GRAND MOSQUE CENTER
Grand is an understatement. The architecture, the white marble and the beautifully maintained green gardens are stunning.
EMIRATES PALACE
Truly a must see place. It is a great hotel, very big. Actually you do not have the feeling that you enter a hotel. Treat yourself with a gold flaked cappuccino.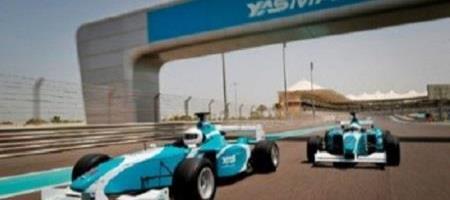 MARINA FORMULA 1
Every Tuesday from 6 pm till 9 pm the public has access to the whole circuit to walk, jog or ride a bike.
DESERT SAFARI
Fun and exciting experience in Abu Dhabi. Driving in the desert over the sand dunes is heart stopping at times! The desert is beautiful and the sunset just amazing. Overnight the sky comes alive with stars; just lie back and gaze up at heaven.
THE CORNICHE BEACH
The corniche is a long stretch along the beach situated right in the heart of Abu Dhabi. There is plenty of space for free swimming & sun bathing. It has many parks in between with places to eat, rent a bike and exercise.
YAS ISLAND BEACH
A great day out! Well worth the trip out of the city, and the entrance fee. It's a lovely spot with great music, clear water, and a lovely ambiance. If you get restless from sun bathing you can also rent kayaks and paddle boards.
MANGROVE LAGOON
A piece of wild nature in the centre of Abi Dhabi. There are eco-friendly donut boats and kayaks to hire and explore this amazing area.
LOUVRE ABU DHABI
Do not miss to visit this spectacular palace of culture located on the Saadiyat Island, close to many other interesting attractions. read more
WORLD EXPO 2020 IN DUBAI – DO NOT MISS
When in Abu Dhabi for VIV MEA 2021, visitors can also take the opportunity to visit EXPO 2020 in Dubai. It aims to connect minds and create the future through sustainability, mobility and opportunity. It will let you explore 191 country pavilions and many signature pavilions.
It awaits you to discover its theme-based districts – Sustainability District, Mobility District, Opportunity District and much more. From Abu Dhabi, it is easily accessible by car.
Date: October 1, 2021 – March 31, 2022
ADNEC
Abu Dhabi National Exhibition Centre
Khaleej Al Arabi Street
Abu Dhabi, U.A.E.
Dates
20 - 22 November, 2023
Opening hour
To be updated soon