VIV MEA management team has decided to postpone VIV MEA 2020 to August 31st – September 2nd, 2020 in Abu Dhabi due to the situation report #39 from the WHO published on February 28th in which the risk assessment for the regional level as well as the global level changed from high to very high.
This decision has been taken after careful consideration and in the interest of exhibitors and visitors and, above all, to protect the health of all attendees.
Despite the fact that the UAE remains open for travel and has employed the strictest medical and hygiene protocols the majority (>75%) of the exhibitors agreed that the postponement of the event is the best solution and have therefore confirmed the decision to move their participation.
In light of the above-mentioned VNU Exhibitions Europe | Jaarbeurs as Organizer of VIV MEA 2020 took responsibility and acted on its rights to postpone the event. The participation agreements remain fully effective.
We look forward to welcoming exhibitors & visitors to Abu Dhabi and VIV MEA from August 31st – September 2nd 2020.
Heiko M. Stutzinger                                                      Renate Wiendels
Director VIV worldwide                                                 Senior Project Manager VIV MEA
With more than 400 exhibiting companies from more than 40 countries, 17,500 sqm gross and 8,000 expected visitors VIV MEA 2020 has expanded into an extra hall at the Abu Dhabi National Exhibition Center. After a second edition that already exceeded expectations, this international event comes back for the 3rd time with an enriched conference program covering the latest trends in dairy, fish, poultry, eggs, cattle, calves, goat, and camels. Strongly driven by business, VIV MEA will offer more products and trade opportunities to the MENA region professionals.
VIV MEA 2020, ADNEC, Abu Dhabi – United Arab Emirates. 
NETWORK WITH THE WHOLE MEA REGION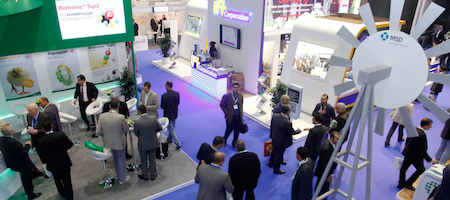 EXHIBITOR LIST
The exhibitor list provides an overview of the VIV MEA registered exhibitors for VIV MEA 2020. Filter and find the companies that you want to meet at the show.
read more > 
CONFERENCE PROGRAM
VIV MEA 2020 will feature high-level industry speakers and key topics for the MENA region in the program. Have a look at the conference program and the show highlights.
read more >
GFIA ABU DHABI 2020
GFIA is a co-located event in ADNEC, Abu Dhabi to offer more input and ideas to the professional visitors of VIV MEA who are also active in other agriculture related businesses.
read more >
Aquatic MEA is a one-day conference featuring experts discussing the latest updates in aquaculture within Egypt, Saudi Arabia and the United Arab Emirates. The conference will feature a variety of industry experts delivering brilliant presentations about the latest updates in both fish and shrimp nutrition.
read more >
Dairy production gets a well deserved spotlight at VIV MEA 2020. This edition presents high-level conferences, suppliers and solutions to dairy professionals. Take the opportunity to network with suppliers and fellow professionals, experience new products and learn about new solutions and innovations.
read more >
ACCOMODATION & VISA
Hotel bookings for VIV MEA can be made via the BTC Group. Please contact BTC Group to make hotel reservations. Find more information about your visa application here. 
read more > 
ENJOY ABU DHABI
As a business & leisure destination Abu Dhabi is not so well known yet. However, the city has developed rapidly. Here are some ideas for an enjoyable stay during your visit.
read more > 
HOW TO REACH
Abu Dhabi is a safe, affordable and relaxed destination to travel to. The ADNEC exhibition grounds are just 15 minutes away from the Abu Dhabi International Airport. Travel easily!
read more > 
VIV INDUSTRY LEADERS
Over the previous years VIV MEA has built a strong network of industry leaders from different sectors who come together at the show. VIV MEA welcomes the Industry Leaders with a dedicated program and the opportunity to network  with other top leaders in the industry.
read more > 
Download the visitor flyer
Download the visitor flyer
ADNEC
Abu Dhabi National Exhibition Centre
Khaleej Al Arabi Street
Abu Dhabi, U.A.E.
Dates
August 31 - September 2, 2020
Opening hours
Monday 31st Aug.: 10:00-18:00 hrs
Tuesday 1st Sept.: 10:00-18:00 hrs
Wednesday 2nd Sept.: 10:00-17:00 hrs